Steering Column and Intermediate Shaft for 2018 Chrysler Pacifica
No.
Part # / Description
/ Price
Price
Not For Sale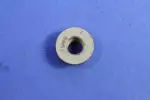 Hex Head Bolt
Heat Shield to Steering Gear. M6x1.00x20.00. Dash Seal to Dash Panel. Multiuse. Electric Power Steering Bracket to Steering Gear Rack.
Hex Flange Head Screw
Extension Shaft to Steering Gear. Steering Column to Steering Gear. Extension shaft to strg gear. M10x1.5x35.. 21. Intermediate Shaft to Steering Column.