Consoles for 2018 Chrysler Pacifica
No.
Part # / Description
/ Price
Price
Floor Console Ash Receiver
Insert. Without Knob And Element. Ash Receiver Only. To 8-11-14. Front Console. Consist of 04595665ab ash receiver assy - ash receiver co 04685536 knob & element assy - cigar lighter.
Discontinued
Discontinued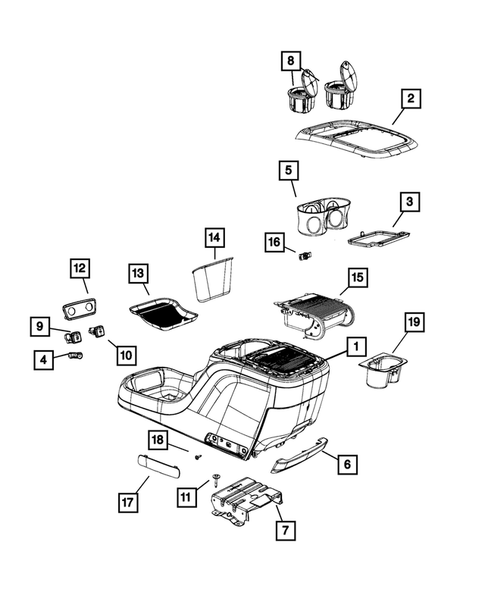 No.
Part # / Description
/ Price
Price
Z-Axis Clip
Attachment, Console to Roof. Sunvisor Clip. Visor & Grab Handle Attaching. Inner Visor Support Attach Serviced in Headliner Assembly Only.
Discontinued
Tapping Screw, B Pillar
Screw
Attachment, Front Console to Header. Front Overhead Console To Header. Console Retainer Attach. Visor Attachment. Visor Center Support Attach. M4.8x1.6x25.0. M4.8x1.6x19.0. Cover to Seat Base. Chmsl to liftgate. Speaker to B Pillar.
Snap In Nut
Overhead Console To Body. Console Bracket To Roof. Visor Retainer Clip. Visor Attachment. Molding To Body.
Hex Head Screw
M4.8x1.59x19.80. Wheelhouse attach. Rear Liner To Box Inner. Overhead Console To Body. Close Out To Bumper. Console To Headliner. Front Liner To Flare. Console Bracket To Front Header. Overhead Console To Bracket. Front Flare To Load Beam.