No.
Part # / Description
/ Price
Price
Mounting Hardware Kit
Contains: 1-S120120001 TPM Retaining Nut, 1-S122990001 Seal Support Washer, 1-S122140001 Valve Stem Cap, Black,Euro, 1-S1201210001 Valve Stem Cap, Grey,Domestic,1-S122988001 TPM To Wheel Rim Seal, 1-S122914001 TPM Valve Core & TPM Mounting Instruction She. ...
Tire Pressure Sensor, Spare Tire
Tire Pressure Sensor Package
Cmu. Includes: Sesnor, Nut And I-Sheet. Includes: Sensor, Nut and I-Sheet. See Electrical Group 008. Contains: 1-Gray Cap, 1- Black Cap, 1- Valve Stem,Sensor & Nut. See Sensor Group 008. With Nut. Includes Attachment Nut. This package contains: 56053030ac sensor - tire pressure 56053033aa nut - tire pressure k6855511 instruction sheet -. [xgm=lab].
Valve Stem Valve Core Kit
Includes: Valve Core, Black Cap (BUX), Gray Cap(Domestic). See Sensors Group 008. Use with 68078768aa and 68078861aa. Contains: TPM Valve Core, Valve Stem Cap, Grey, Domestic, Valve Stem Cap, Black, Euro. Containes: Valve Core, Cap Euro Black and Cap Domes ...
Valve Stem Cap Kit
Contains Quanity Of 5. Includes: 5 Grey Caps (Domstic). Used With Screw In Sensor. Includes: 5 Grey Caps. Quantity of 5. Includes: 5 Grey Cap (Domestic). Contains: A2C53151351 Valve Stem Cap Grey (Qty.5). Containes: 5 Gray Caps.
Backordered
Wheel Kit
Aluminum Wheel, Front Or Rear
Chrome. [wpp+x88]. 18 Inch for 82210606.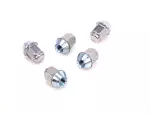 Nut-Wheel Chrome
Wheel Nut
For aluminum wheels. Size M12x1.5. Not sold as a set; picture is for reference purposes only.
Backordered